All About Hot Dog Chicago Style
HotDogChicagoStyle.com was founded in 2005 and built on a simple premise: Let's find the perfect Chicago Style Hot Dog. As Quality Assurance Engineers, we appreciate quality and exacting standards and expect no less from our Chicago Dogs.
As transplants from the Chicago area, we truly miss the plethora of places to get a Chicago Dog. After talking with others, we soon realized that we were not alone in our quest to ingest the creme-de-la-creme, nirvana-provoking, Utopian Chicago Dog...a Dog that any Windy City street vendor would step back and bow down to.
The People
So, who is behind all of this? Here is a look at the creators of HotDogChicagoStyle.com:
Mitch - Founder and President of Hot Dog Research & Development (way cool made-up title!)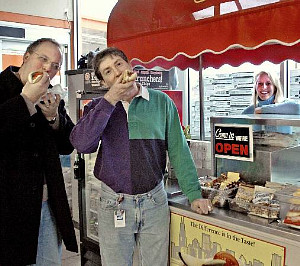 Mitch was born and raised in the Chicago area and developed a taste for Chicago Dogs at an early age. As a special treat, his Father would often pick up Vienna all beef dogs direct from the factory. Mitch moved to Madison to attend the University of Wisconsin and soon discovered, to his profound horror, that the bratwurst is Wisconsin's answer to the sausage-of-choice. Mitch, a former model, enjoys running with the bulls, splitting atoms and looking for the lost city of Atlantis.
Kevin - Founder and President of Hot Dog Operations (another made-up, but cool title!)
Kevin began to cultivate his finely-honed taste for authenticity relatively late in life when he relocated to Chicago as a college student. There was a little Dog stand around the block and the rest is history. Kevin loves New Orleans cooking and it is no longer a secret that he rates that city's Lucky Dogs a close second. Kevin enjoys, taming wild sharks, extinguishing dangerous oil well fires and just about any activity that pushes his adrenaline to the limit.
Matt - CFO (Chief Frankfurter Officer) - That is what "CFO" stands for? Right?
Matt is another co-worker of ours who also appreciates a great Chicago Style Hot Dog. Although Matt hasn't always been a visible force behind Hot Dog Chicago Style, Matt has been with us in the trenches helping conduct our reviews. Congratulations to Matt on his recent promotion to CFO. Matt has a great interest in meteorology, but also enjoys extracting the venom from poisonous snakes and raising komodo dragons in his spare time.
Kevin, Mitch and Matt work together and spend many a lunch hour scouring Madison and beyond in search of that perfect Chicago Dog. When not at work, they are working on perfecting perpetual motion as well as building a machine capable of time travel.
We hope you enjoy your visit as much as we enjoyed creating this website. Stop by often and please tell your friends about us!
Your comments are always welcome. To contact us, Click Here.

Our Corporate Headquarters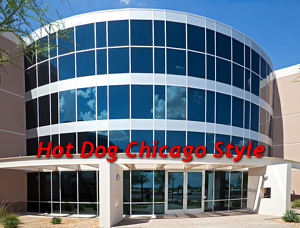 If we were a real business, this is probably the type of building we would have for our Hot Dog empire. Maybe we would even call it a "Hot Dog Lair". The building you see is real. However, since we are not a real company (as previously stated countless times throughout our site), we don't own it.
Our building is only as real as some stock photo floating around in cyber-space. You must admit that we did a great job "PhotoShoping" our company name on this photo. It really looks like a great place to work.
Don't worry, we are not trying to deceive you any more than all those companies that send out catalogs containing photos of beautiful smiling people wearing headsets who are ready and eager to take your call.
---