Pizza - Hot Dog Chicago Style
Well, Kevin has been very busy in the kitchen creating something he calls "Pizza - Hot Dog Chicago Stye". Take a look at this creation each step of the way. Click Here for the recipe.
Step 1: Pizza Dough With Poppy Seeds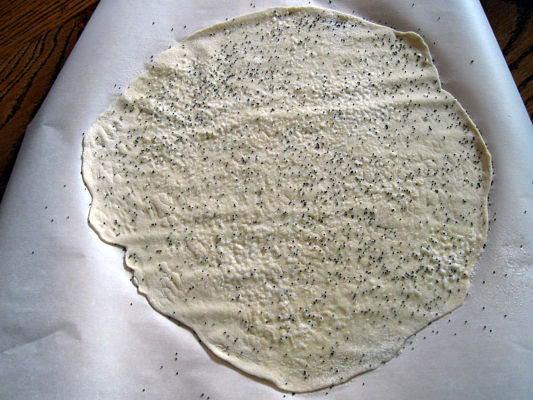 Step 2: Mustard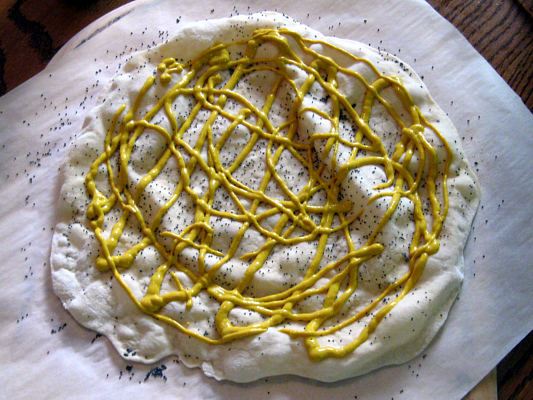 Step 3: Hot Dogs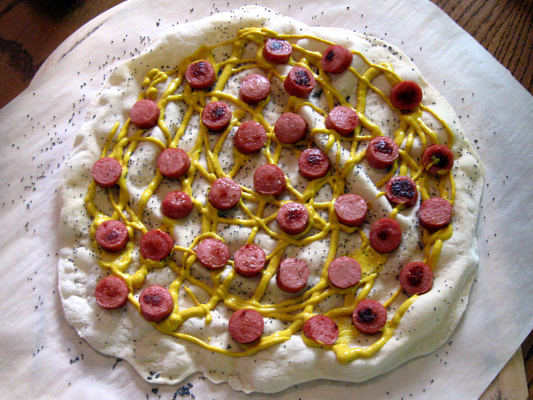 Step 4: Onions
Step 5: Tomatoes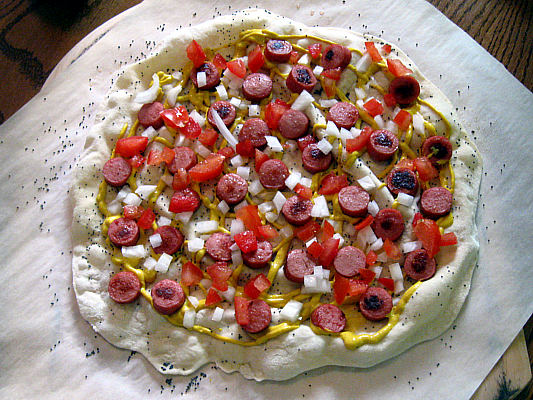 Step 6: Sport Peppers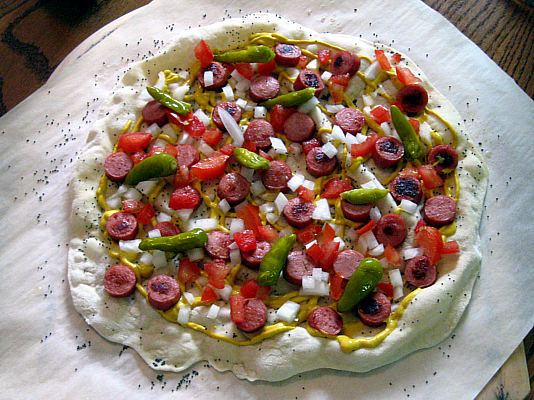 Step 7: Relish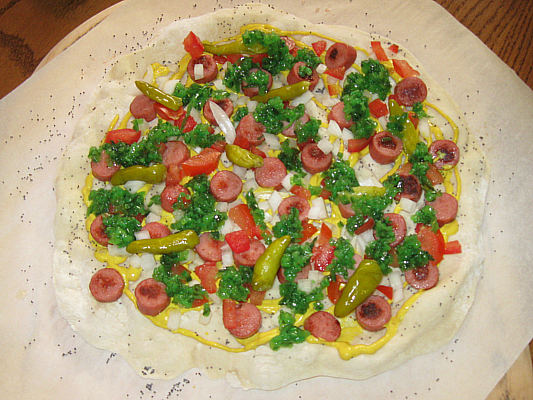 Step 8: Pickles
Step 9: A Dash of Celery Salt and the finished Masterpiece!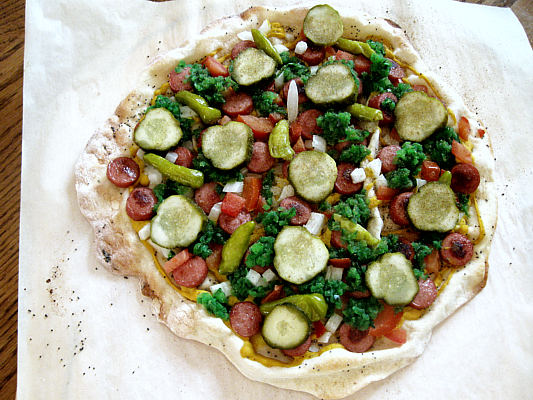 Pizza - Hot Dog Chicago Style Recipe

pizza dough (I use this recipe http://www.theartisan.net/bredfrm.htm)
yellow mustard
1/4 cup chopped white onion*
1/4 cup chopped tomatoes*
1/2 cup neon green sweet relish (Rolfs or Puckered Pickle)*
10 sport peppers*
2-3 all beef hot dogs sliced in 1/4" to 1/2" cylinders*
1 Deli style pickle sliced in 1/8" cylinders*
poppy seeds
celery salt
pizza stone
pizza peel
parchment paper

*note: approximations based on a 10" diameter crust

preheat the grill or oven to 500

(1) prepare the pizza dough and roll out the desired size, place on parchment paper (to easily slide in/out of the oven)
(2) cook the dog slices over medium high heat until most of the moisture is removed and they begin to brown...about 5 minutes
(3) spray dough with olive oil
(4) add poppy seeds
(5) bake crust for 3-5 minutes, until it starts to bubble and brown slightly on the edges
(6) let the crust cool slightly and punch down any large bubbles
(7) squirt the mustard on the crust in a nice pattern, making sure to get good coverage
(8) carefully add the hot dog slices
(9) add the onions, tomatoes, sport peppers
(10) plop on teaspoons of relish until you have good coverage
(11) bake the pizza for 5-10 minutes
(12) carefully add the pickle slices
(13) dust the pie generously with the celery salt
(14) serve immediately
---
| | | |
| --- | --- | --- |
| | | |